Information for a More Resilient Connecticut
Fact sheets and white papers resulting from the Resilient Connecticut project include: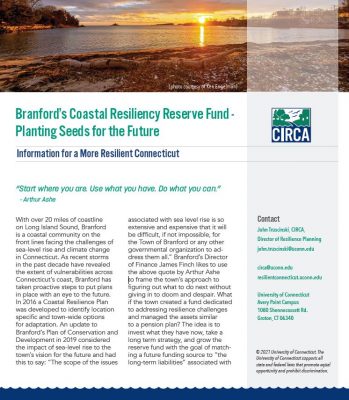 Connecticut Climate Fact Sheets
Sea Level Rise Policy White Papers
A research team from UConn's Center for Energy and Environmental Law generated a series of deliverables aimed at educating both policymakers and the general public on resilience best practices in law and policy. These deliverables include legal research white papers and drafts of model rules for adoption, with the overall goal of removing barriers to climate resilience efforts at the state and municipal levels. Topics include elevation of critical facilities, zoning regulations, building codes, coastal protection and armoring, takings jurisprudence, and the public trust doctrine.
Planning and Visualization Tools for Sea Level Rise
Three "resilience scenarios" are drawings that depict sea level rise and flooding problems common in many Connecticut towns. These diagrams can be used by municipal and state agency staff as communication and planning tools.  The products are particularly useful to town planners or engineers as they have controllable "layers" that can be manipulated to highlight various resilience problems. CIRCA and UConn's Center for Energy and Environmental Law (CEEL) created these products in partnership in 2019.
Resilience Corridor Diagram                            Barrier Beach Resilience Diagram                  Marsh Resilience Diagram