Project Description
Due to climate change, heat waves are expected to become more frequent and severe, which can be dangerous to human health and wellbeing. Individuals who are not as acclimated to heat, like Connecticut residents are potentially at high risk for heat related illnesses during periods of extreme heat. Those who live in urban areas experience warmer air temperatures than those who live in rural areas, due to the Urban Heat Island Effect. Products of urbanization like asphalt, high concentration of buildings, and lack of vegetation cause urban areas to retain more heat. This project aims to identify the variability of air and surface temperature overtime and its linkages to urbanization, focused in Norwalk, Connecticut. Heat Index data will be collected through the deployment of 13 wireless heat sensors mounted on electric poles or trees, throughout the city of Norwalk.
Project Timeline: June 2022 – October 2022
Project Goals
The main objective of this project will be to map and identify vulnerable areas to heat, extreme climate conditions, and identify the contribution of the changes in heat to vulnerability. The data will be used to model the differences between heat sensor and satellite measured temperatures and heat vulnerability in the area.
Why 13 Heat Sensors Have Been Installed Around Norwalk
Norwalk To Install Heat Sensors Across City
The Data
The sensors record temperature, relative humidity, and dew point temperature at street level, approximately 8-10ft above ground.
Equipment
The HOBO MX2300 series data loggers record and transmit temperature and/or relative humidity (RH) in outdoor or indoor environments. These Bluetooth Low Energy-enabled loggers are designed for wireless communication with a mobile device. Using the HOBOconnectTM app, you can easily configure the logger, read it out, and view data on your phone or tablet, or export the data for further analysis. Click HERE for more information about the sensors.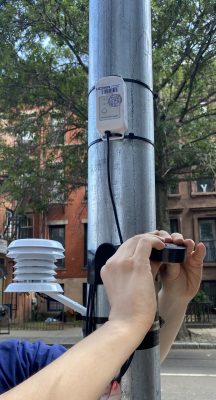 Sensor Locations                                                                                                
Cranbury Park
SONO Police Property Division/Station                                        
Rowayton Shoreline
Norwalk Fire Station 5
Bounton St
Norwalk Main Public Library/Norwalk Center
Norwalk High School/Naramake Elementary School
Norwalk Fire Station 2
East Norwalk Train Station
Norwalk Community College
West Rocks Middle School
Huckleberry Drive
Calf Pasture Beach
Partners
Connecticut Institute for Resilience and Climate Adaptation (CIRCA), Norwalk Health Department, and Norwalk Department of Planning & Zoning, with support from Norwalk Departments of Information Technology, Transportation, Mobility, & Parking, Public Works, and Recreation & Parks, as well as the Norwalk Water Pollution Control Authority, Norwalk Public Library, Norwalk Police Department, and Norwalk Fire Department.
Engagement
Coming soon.
Contact Us
Do you have more questions? Please contact circa@uconn.edu with any questions.