Statewide Resilience Roadmap Recommendations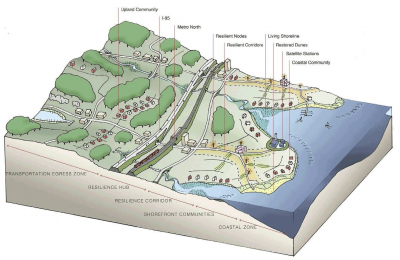 CIRCA and project partners will provide guidelines for the state and municipalities to achieve the following:
Improve the integration of field research to inform site planning and the translation of data to site scale planning choices;
Improve the integration of modeling, informed analysis, and interpretation of model results to guide planning and risk based decision-making. Risk = the probability of an event x the vulnerability of an area;
Strengthen the regional and multi/cross jurisdictional resilience planning approaches including the state's existing programs (e.g. state level programs and COGS);
Improve the bottom up and top down coordination (state to municipal, municipal to homeowner);
Explore, test and integrate a balanced approach to practical and innovative planning, design and implementation strategies into existing documents such as the hazard mitigation, CRP and POCD;
Define and address legal and economic obstacles and permitting challenges;
Define and address implementation and management issues; and
Provide capacity building for resilience planning and projects in Connecticut.
Sea Level Rise Policy White Papers
Connecticut faces unique challenges in climate resilience planning and implementation. To respond to the need to make  information available for Connecticut communities to implement resilience measures through law and public policy, the UConn School of Law's Center for Energy and Environmental Law (CEEL) conducted legal and policy analysis on critical topics in climate resilience and a targeted educational campaign for key decision-makers. Four white papers released in 2018 include:
Planning and Visualization Tools for Sea Level Rise
Three "resilience scenarios" are drawings that depict sea level rise and flooding problems common in many Connecticut towns. These diagrams can be used by municipal and state agency staff as communication and planning tools. The products are particularly useful to town planners or engineers as they have controllable "layers" that can be manipulated to highlight various resilience problems. CIRCA and UConn's Center for Energy and Environmental Law (CEEL) created these products in partnership in 2019.