From Regional Vulnerabilities to Resilience Opportunities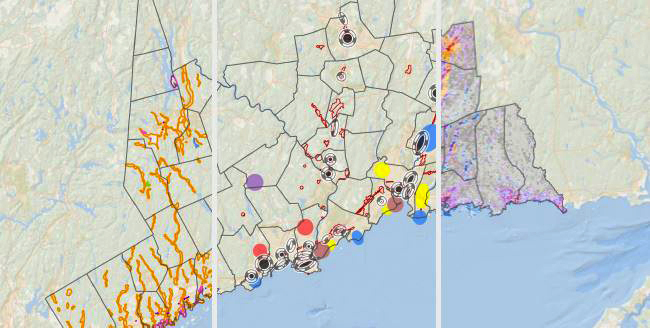 Phase II of Resilient Connecticut commenced in mid-2020 and concluded in September 2021. The central component of Phase II is a regional risk and vulnerability assessment for all 51 municipalities in New Haven and Fairfield Counties coupled with identification of "zones of shared risk" (ZSR) in the 33 municipalities that have potential for Transit Oriented Development. The spatial data and analysis was informed by stakeholder engagement to identify potential resilience opportunity areas. Along with the draft report and maps below, other Phase II results are on a webpage with additional vulnerability product links - map viewers, ESRI Story Maps, workshops, webinars, and more.
CIRCA is accepting comments on the draft report and maps via the feedback forms on the right through October 31, 2021. A 30 minute webinar will be held October 8 from 12 - 12:30 pm to review these draft products and describe the public comment period and next steps.  REGISTER HERE.
Draft Report:
The report and appendices below describe the two-county vulnerability assessment and its findings, concluding with a presentation of 63 specific geographic areas where adaptation and resilience opportunities can be identified to address flood-related risks, extreme heat, or both. Assessment tools described in this report can be used by communities in their own resiliency planning.
Appendix A: Stakeholder Workshop Reports
Appendix B: Social Vulnerability Mapping Resource Review
Appendix C: Flood and Heat CCVI Contributor List
Appendix D: TOD and Future Planned Development Review
Appendix E: TOD Heat and Flood CCVI Summary Statistics
Appendix F: Zones of Shared Risk Narratives
Appendix G: TOD and ZSR analysis
Executive Summary:
This shorter document provides a high-level review of the full report's vulnerability analysis and importantly, is organized by the four Council of Governments for a better understanding of regional vulnerability. A description of vulnerability through the lense of assets and infrastructure in the two counties is also described as are the 63 identified specific areas for resilience opportunities.
DOWNLOAD EXECUTIVE SUMMARY ENGLISH
Regional Opportunity Area Map Download
The following set of New Haven and Fairfield County's 63 resilience opportunity maps are organized by four focus areas: 1) transit oriented development with 40 maps, 2) affordable house with 11 maps, 3) wastewater treatment with 4 maps, and 4) public water supply with 8 maps. Each location's map link is a two page document with information summarized in both English and Spanish.  A Spanish Translated Map Legend will be posted here soon.