Climate Change & Public Health Mini-Webinar Series
Webinar Overview
Throughout the month of September, hear about Climate Change and Public Health in our mini-webinar series. Focused on topic and condensed on time, enjoy 1,2, or all 6 of our free webinars! Each webinar will be 45 minutes with about 30 minutes of presentation and 10-15 minutes for questions or interactive exercises. Hear from our incredible line-up of speakers from partners across the region, including Save the Sound, Cary Institute of Ecosystem Studies, Yale Center on Climate Change and Health, the Connecticut Department of Public Health, Save the Sound, the city of Norwalk, and, of course, UConn researchers.
During this webinar series, participants will learn about:
the latest science on climate change and public health;
resilience strategies for municipalities, health departments, and emergency management; and
and how Resilient Connecticut is integrating public health into its research and planning efforts.
If you can't attend the live events, please feel free to watch them on our YouTube channel later.
| | | |
| --- | --- | --- |
| Dates | Topics | Speakers |
| Tuesday September 8, 3 pm | Climate Change & Public Health Overview | Laura Bozzi, Laura Hayes, John Truscinski |
| Thursday September 10, *4 pm* | Heat, Public Health, and Climate Change | Mariana Fragomeni |
| Tuesday September 15, 3pm | Equity in Climate Change & Public Health | Mark Mitchell |
| Thursday September 17, 3pm | Vector-borne Disease | Shannon LaDeau |
| Tuesday September 22, 3pm | Recreational Water | Bill Lucey |
| Thursday September 24, 3pm | Emergency Preparedness, Public Health, and Climate Change | Nicholas Elton, Michelle Deluca |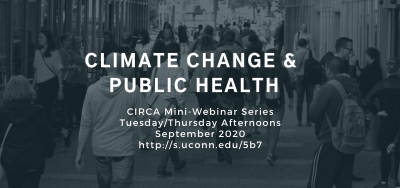 Webinars

Climate Change & Public Health Overview
Heat, Public Heath, and Climate Change
Equity in Climate Change & Public Health
Emergency Preparedness, Public Health, and Climate Change
Webinar Program
Each webinar will be moderated by CIRCA's Assistant Director of Resilience Planning, Joanna Wozniak-Brown, PhD.

1. Climate Change & Public Health Overview
Presented by Laura Bozzi, PhD; Laura Hayes, PhD; John Truscinski, CFM
During this webinar, learn about:
Changes in the form of increased temperatures, extreme precipitation, and chronic flooding pose significant challenges to human health in CT;

Recent state efforts led by DPH and Yale CCHI to understand and mitigate these challenges;

How Resilient Connecticut incorporates climate change and public health.
Presentations & Reports Mentioned:

CT State Health Assessment 2025
Climate Change and Health in Connecticut: 2020 Report
Presenter Biographies:
Dr. Laura Bozzi is the Director of Programs at the Yale Center on Climate Change and Health and a lecturer in Environmental Health Sciences at the Yale School of Public Health. Prior to this role, she led the Climate Change Program at the Rhode Island Department of Health. Her work seeks to address climate change's negative health impacts and promote health equity through policy change, scholarship and research, and supporting communities to build resilience and capacity. Laura served as lead author of the "Community Resilience and Health" chapter for the Rhode Island Governor- commissioned Statewide Climate Resiliency Action Strategy, released in June 2018. Over her career, she has worked across the United States — from Oregon and West Virginia to Washington, DC and Rhode Island – in environmental protection, food systems, and fisheries. Laura holds a Ph.D. in Forestry and Environmental Studies and a B.S. in Ecology and Evolutionary Biology, both from Yale University.
Dr. Laura Estep Hayes is an epidemiologist with the CT Department of Public Health in the Health Statistics and Surveillance section and co-lead and liaison for the Public Health and Safety Working Group of the Connecticut Governor's Council on Climate Change.  She holds a B.S. in Marine Science from Eckerd College and served as an EPA STAR (Science To Achieve Results) Fellow while earning an M.S. in Epidemiology and Public Health, with a concentration in Biostatistics, from Yale University. She earned her doctoral degree in Zoology from Auburn University in 2011 and has published over 20 peer-reviewed manuscripts on ecology, infectious disease, and public health. She received certification through the Yale University Climate Change and Heath Training Program for Public Health Professionals in 2018.
John Truscinski is the Director of Resilience Planning and manages the Resilient Connecticut project. He recently worked with The Nature Conservancy as their Coastal Resilience Manager in New Jersey, leading TNC's state-wide efforts to incorporate ecosystem based climate adaptation strategies into coastal community planning efforts. In this role he worked directly with state agency staff and municipal leaders along the Jersey Shore.  John holds a Master's degree in Sustainability Management from Columbia University's Earth Institute where he focused on methods of urban coastal adaptation to the impacts of climate change.

2. Heat, Public Health, and Climate Change
Presented by Mariana Fragomeni, PhD, MEPDÂ
During this webinar, learn about:
Most recent projects for temperature and heat changes in Connecticut;
Understanding the relationship between the temperature projections and landscape typologies; and,
Resilient Connecticut research to understand the spatial distribution of heat islands using GIS and temperature measurements.
Presentations & Reports Mentioned:
Dr. Mariana Fragomeni Presentation
Presenter Biography:
Dr. Mariana Fragomeni is an Assistant Professor in UConn's School Agriculture, Health, and Natural Sciences, in the Department of Plant Science & Landscape Architecture. Dr. Fragomeni's research interests are in climate adaptation and decision-making, with focus on heat vulnerability. Her fields of expertise are in urban climatology, human bioclimatology and urban design. She works on applied research that seeks to understand how we can improve environments, through design and decision-making, to reduce vulnerability, particularly to at risk populations (children under 5, elderly and low income populations). She continuously seeks to develop collaborative and interdisciplinary research at the nexus of urban climate (environmental) and planning (social and policy), which are consistently linked with human health and well-being. And her interests in heat vulnerability are focused on the human perception of heat (human bioclimatology) and the impacts of decision-making in improving or exacerbating heat sensation, and thus impacting quality of life.

3. Equity in Climate Change & Public Health
Presented by Mark Mitchell, MD, MPH, FACPM
During this webinar, learn about:
Equity disparities from short-term and long-term climate impacts;
Current understanding on disparity of health outcomes due to socioeconomic inequalities in CT; and,
How will changes in climate (heat, flooding) exacerbate or amplify existing disparities in health outcomes?
Presentations & Reports Mentioned:
Dr. Mark Mitchell Presentation
CT DEEP Equity & Environmental Justice Webinar Series

Presenter Biography:
As Associate Professor of Climate Change, Energy, & Environmental Health Equity at George Mason University's Center for Climate Change Communications, Dr. Mitchell is State Liaison for the Medical Society Consortium on Climate and Health. He also co-chairs the National Medical Association's Commission on Environmental Health, where he provides environmental health education and advocates on behalf of NMA.
A preventive medicine physician trained in environmental health and health policy, Dr. Mitchell has spent over twenty years working in the public health sector, including as Director of the Hartford, Connecticut Health Department. He is the founder and senior policy advisor to the Connecticut Coalition for Environmental Justice and has spent fifteen years working with environmental justice communities to prevent and reduce environmentally related disease, as well as to change policies that are detrimental to community health.
He now works with clinicians in Virginia, Florida, Michigan, Georgia and Wisconsin to help coordinate efforts by physicians and nurses to educate and advocate for reducing the health effects of climate change. He has served on several U.S. EPA and FDA advisory committees and has received a number of awards for his community and environmental health leadership.
Dr. Mitchell earned his medical degree from the University of Missouri-Kansas City and his Masters of Public Health from The Johns Hopkins University.

4. Vector-borne Disease
Presented by Shannon LaDeau, PhD, Cary Institute of Ecosystem Studies

During this webinar, learn about:
key vectors and vector-borne diseases in New England;
changing temperatures and vector ecology (ticks/mosquitoes) and how these influence human disease risk; and,
 practices or policies should municipalities and local health departments put into place.
Presentation & References Mentioned:
Dr. Shannon LaDeau Presentation
Presenter Biography:
Dr. Shannon LaDeau is a disease ecologist who investigates how species interactions and environmental conditions influence the spread of pathogens. Current projects include work on how climate change regulates tick populations and Lyme disease, the ecology of mosquito vectors in complex urban risk-scapes, and viral transmission in wild fish-hatchery networks of the Pacific Northwest.

5. Recreational Water
Presented by Bill Lucey, Long Island Soundkeeper
During this webinar, learn about:
How and why do recreational waters become hazardous to human health;
How decisions are made about closing recreational water; and,
Ways to adapt recreational water to climate change.

Presenter Biography:
Raised in Connecticut, Bill Lucey grew up fishing local waters before earning a Fisheries Biology B.S at the University of Vermont, and a graduate certificate in Fisheries Management from Oregon State University. He served in Guatemala as a Peace Corps fisheries extentionist before moving to Alaska for 20 years where he worked as a federal fish & wildlife biologist, commercial fisherman and a coastal program coordinator. In 2014, he became the director of the Kauai Invasive Species Committee with the University of Hawaii. Since 2017, he has patrolled the rivers and estuary of Long Island Sound advocating for fishable, swimmable, and drinkable water with Save the Sound.

6. Emergency Preparedness, Public Health, and Climate Change
Presented by Nicholas Elton, Graduate Student, Yale School of Public Health and Michelle DeLuca, Deputy Emergency Management Director, city of Norwalk
During this webinar, learn about:
Research conducted by DPH and CIRCA on local cooling stations and emergency shelter practices; and,
how emergency managers are incorporating climate change and resiliency into their preparedness activities.
Presenter Biographies:
Michele DeLuca is the Deputy Director of Emergency Management for the City of Norwalk. She has been working for the Norwalk Fire Department since 2007. Prior to this she worked for the American Red Cross for 10 years. She served as the DEMHS Region 1 Chair and Vice Chair for 6 years as well as the chair of the Mass Care and Long Term Recovery committees in the region. Over the years, she's served on several state level work-groups focused on both Mass Care and long term recovery. She has also served on advisory councils with the Maritime Aquarium in Norwalk to support grant programs focused on coastal resiliency and adaptation and has been engaged in the Hazard Mitigation planning process.
Nicholas Elton is a second-year MPH student in the Department of Environmental Health Sciences at the Yale School of Public Health. His current research area focuses on extreme heat, cooling centers, and affected vulnerable populations. Other general interests include impacts of climate change adaptation and mitigation strategies, environmental sustainability, and One Health. He graduated from the University of Michigan with a Bachelor of Science in Biology and Environment.
Webinar Recording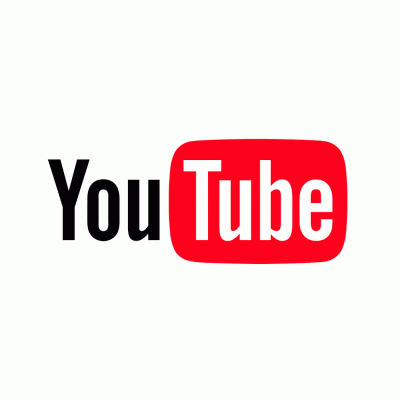 Tune in after air date on CIRCA's YouTube channel if you missed any of the presentations! Click subscribe and the little bell icon to get notifications whenever a new video goes up!
---
Stay in Touch

This webinar is part of a regular series hosted by CIRCA and involving different partners & organizations. These webinars will be available to watch live with opportunity for Q&A and a recording will be posted shortly following the event.
To receive notification about upcoming webinars, please sign up for the Resilience Roundup e-newsletter and CIRCA Announcements.

---
Funding for this webinar presentation is provided by the United States Department of Housing and Urban Development through the Community Block Grant National Disaster Recovery Program, as administered by the State of Connecticut, Department of Housing.