Jarvis Creek (Branford) Sea Level and Flooding Variability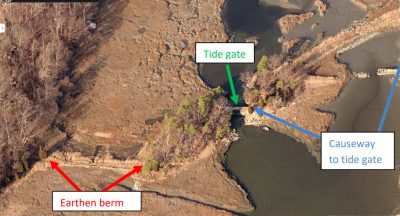 The project demonstrates the effects of engineered tidal flow constrictions on the variability of the sea level in salt marshes and the frequency of flooding in upstream areas, focused on Jarvis Creek (Branford). The high water levels at Jarvis Creek Marsh, CT, have led to flooding on Leetes Island Road (RT 146) and at a field adjacent to the marsh. Exchange of water between Long Island Sound and the marsh complex is currently influenced by a tide gate and a berm at the southern end of marsh and a railway bridge that crosses the middle of the marsh.
"The observation and the development of a mathematical model that quantitatively assesses the influence of the tide gate and the berm on the exchange with Long Island Sound and the frequency of flooding."
Road Flooding in Coastal Connecticut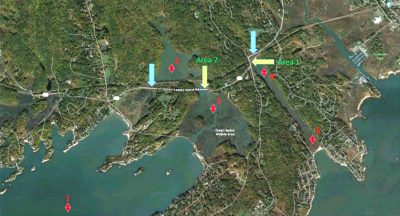 A demonstration project was conducted to provide estimates of the frequency of flooding at two sites on RT 146 in Guilford and two sites in Branford. The project includes Sachem Head Road and Leetes Island Road in Guilford, and Indian Neck Avenue, Linden and Sybil Avenue, Limewood Avenue and Waverly Road in Brandord. The model required the analysis of observations, LIDAR surface elevations, GPS surveys and water level observations. The project provided current flooding frequency statistics, future flooding frequency statistics and the effectiveness of road elevation options on reducing the flooding frequency.
"The proximity to tidal wetlands and the minimal elevation difference above tidal wetlands in many areas makes the roadway extremely vulnerable to tidal flooding, both now and as sea level gradually increases. An increase in the mean sea level of only 0.1 m is likely to double the number of days of flooding."