Save the Date!
Resilient Connecticut Climate Adaptation Summit
November 20, 2020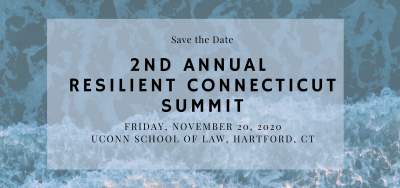 CIRCA's second annual Resilient Connecticut Summit will take place on November 20th. The Summit is a wonderful way to network with people working on climate resilience in a variety of sectors and to hear the latest advancements in the Resilient Connecticut project.
At the first Summit, participants:
Heard about the structure and progress for the Resilient Connecticut project;
Learned about innovative resilience planning through regional case studies and a keynote speaker, and;
Provided feedback on key planning and technical elements of the project.
Further details for this year's event will be available soon.
Stay tuned for more information. As plans are developed, we'll share information via the Resilience Roundup and our November 2020 Summit webpage. Please share with anyone you think would be interested. The materials for the 2019 Summit are available here.
CIRCA COVID-19 Update
In accordance with public health guidelines and Governor Lamont's Executive order, all CIRCA staff will be working from home until at least April 30. If you wish to get in contact with a staff member, a list of contact information may be found at this
link
. We are checking our office voicemails.
We hope that everyone is remaining safe and healthy during the COVID-19 pandemic, and we look forward to physically meeting with you all again.
Global Adaptation Month
We are pleased to announce that CIRCA will be participating in this year's
Global Adaptation Month
.
Throughout April, we will be sharing great climate-related info and projects. If you would like your organization's work highlighted, please fill out the form linked below, and be sure to look into all of the great projects highlighted all month long!
---